Introducing Norfolk Island Oztag – the newest association offering both junior and senior competitions.
Oztag has kicked off on Norfolk Island, a tiny Australian Island in the South Pacific Ocean – located between New Zealand and New Caledonia, roughly 1,600km north-east of Sydney.
With a population of just over 2000, Norfolk Island is rich in history and culture, known best for its turquoise waters, subtropical climate and heritage listed sites.
Norfolk Island Oztag (NIO) Licensee, Katie Trickey said her decision to start an Oztag competition on Norfolk Island came from her own love for the game – she wanted the community to have the opportunity to play this great game.
"I was born on Norfolk Island – we have a little community and I thought it would be a great idea to bring over a new sport for people of all ages to get to know," Trickey said.
In January, Oztag General Manager, Bill Harrigan OAM flew over to Norfolk Island and hosted a 3-day clinic for the community ahead of their inaugural competition.
"The 3-day clinic with Bill went really well… He helped us all learn a bit more about Oztag. He spoke on the radio to get it out to the community more and we ran clinics for everyone," Trickey said
"We spoke to the kids at the school and ran one up there… We ran a junior skills clinic and game, a ref clinic, as well as a seniors fun run game the next day,"
"It was an absolute pleasure having Bill over helping us get started and seeing our island," she said.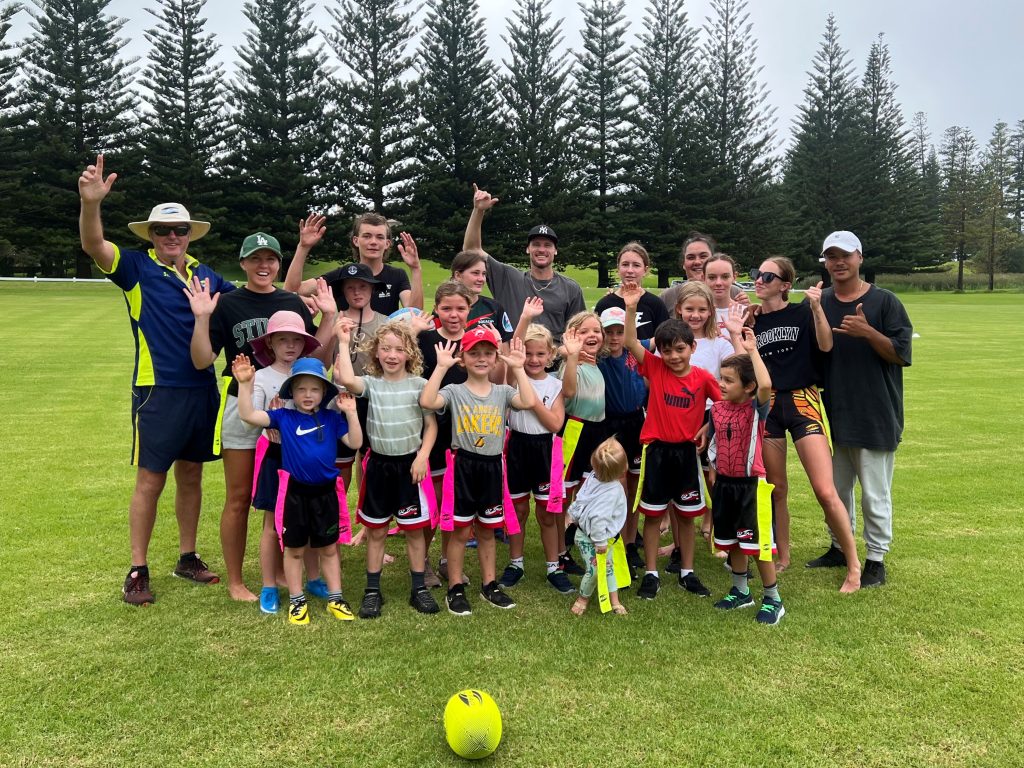 Not knowing what to expect, Harrigan was thoroughly impressed by the engagement from the community.
"I didn't know what to expect with such a small population but they turned out… More kids turned up each day so word of mouth was working well," Harrigan said.
"Enough seniors turned up to host a game and I'm sure their numbers will increase as the season kicks off… Katie is passionate and will do a great job,"
"Oh, and I should say – what a beautiful Island," he said.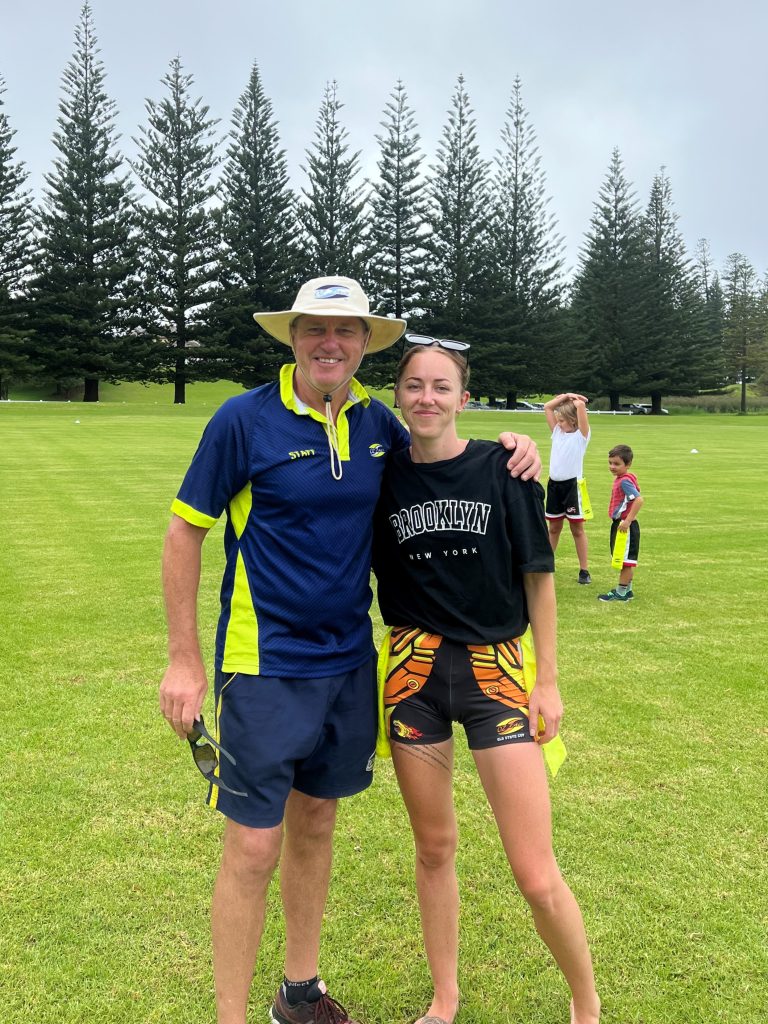 NIO kicked off their 8-week Junior competition in February, with divisions including 5-6's, 7-8's, 8-11's and 12-15's.
Katie is thrilled with how the competition has taken off, describing the community response as 'overwhelmingly good'.
"The Junior comp has been constantly expanding and the kids are just loving it… We've had so much positive feedback from kids and parents with how great it is so far, which is awesome for us," she said.
"It's so inspiring and exciting to see all these kids get out there and play a sport that I love and have gotten out there and are all starting to love too,"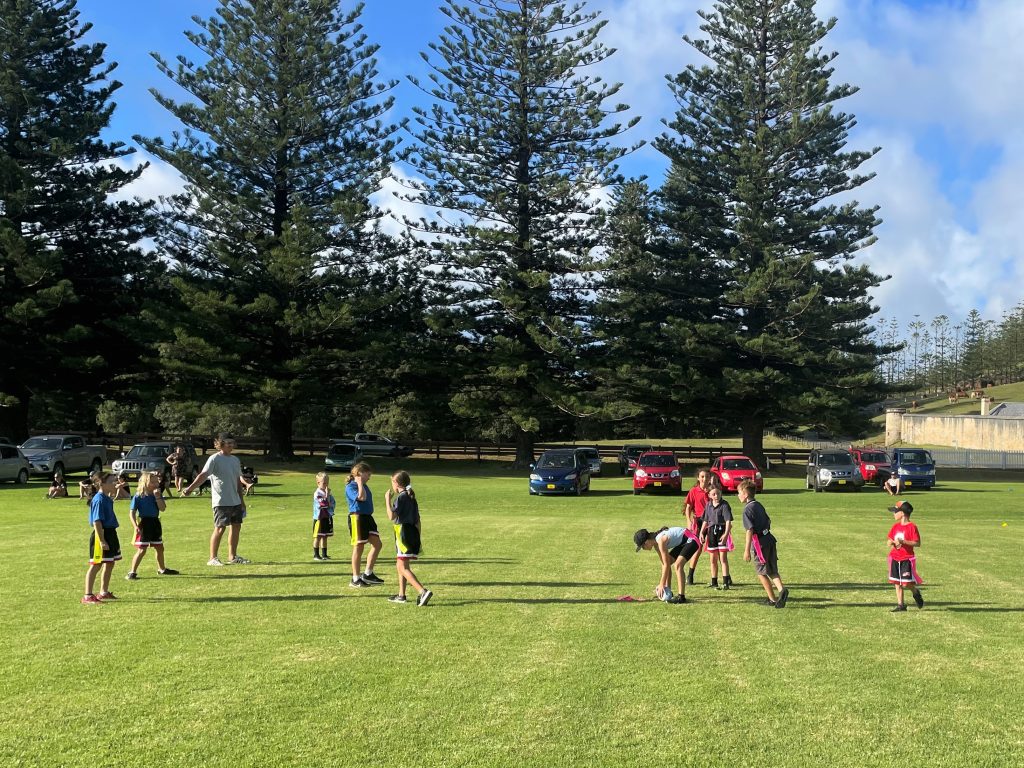 This week, NIO kicked off their inaugural Senior competition – which will run for eight rounds, plus finals.
"As of this far, we'll only have one division as we've only heard back from enough people to make up 2-3 teams… The people that have put their names down are very keen to play," Trickey said.
Looking forward, Katie aims to continue growing Oztag on the Island and hopes to in time – have NIO representative teams.
"My goal is to get as many people into this sport as possible so it can keep thriving over here for years to come… also to eventually get a rep team or two together to take away for state cup or nationals to represent Norfolk," Trickey said.
For more information on Norfolk Island Oztag, head to their Facebook page, or contact Katie at norfolk@oztag.com.au