Australian Oztag are set to welcome 198 teams to the beautiful Coffs Coast for the highly anticipated Junior Australian Championships.
The 2023 Junior Australian Championships kicks off on Friday 14 October in Coffs Harbour, which will see teams from New South Wales and Queensland battle it out for the National title.
Set to welcome over 3,000 players to C.ex Stadium, Australian Oztag (AO) look forward to an action-packed weekend of Oztag, with many teams worth keeping an eye on!
The clinical West Tigers Girls 15s and Girls 16's are determined to claim their sixth consecutive national title, while the Orcas Girls 13s will be gunning for their fourth.
Chasing three in a row is the West Tigers Boys 11s, Central Coast Boys 16s and Illawarra Girls 17s.
However, the stakes are raised even higher for the Under 14s through to 17s as they compete, not only for a national title, but for Australian selection ahead of the 2024 Big 4 Challenge.
The Under 16s Tagaroos squad will be selected from the Under 14s and 15s divisions.
The Under 18s Tagaroos squad will be selected from the Under 16s and 17s divisions.
This year will see the West Sydney Tigercubs chase back-to-back Region Championships, with last year's runners up, Central Coast, determined to retrieve the title.
AO look forward to kicking off the most prestigious Junior tournament of the year, and wish everybody safe travels in the meantime.
Games will commence at 9.30am Friday with live fixtures and results via SportFix.
Teams are encouraged to book in for their official team photograph with IB Images via their online booking system, which will place them in the priority system for action shots.
The official tournament merchandise will be on sale at the Southern Grandstand (see opening times below). Get in quick to avoid missing out!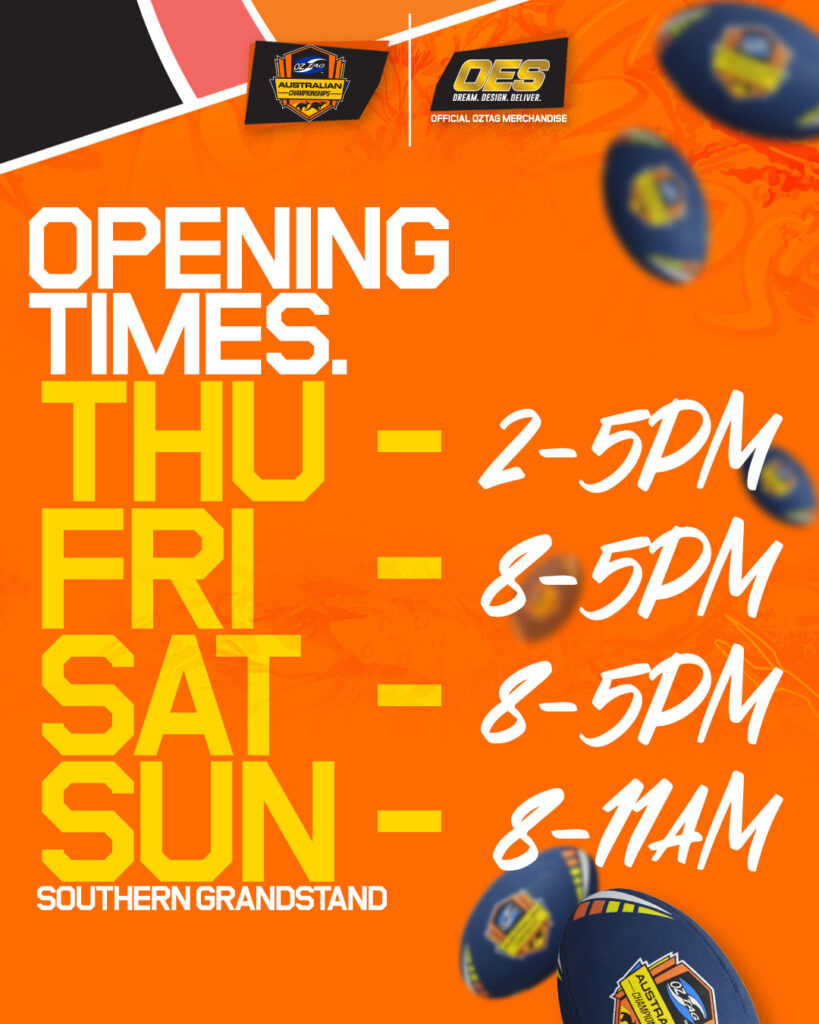 Livestream will be via the Australian Oztag Facebook page, with coverage kicking off at 8.30am on Sunday 15 October.
For a thrilling lineup of activities before and after your games, dive into the Ultimate Guide for fun stuff to do on the Coffs Coast.