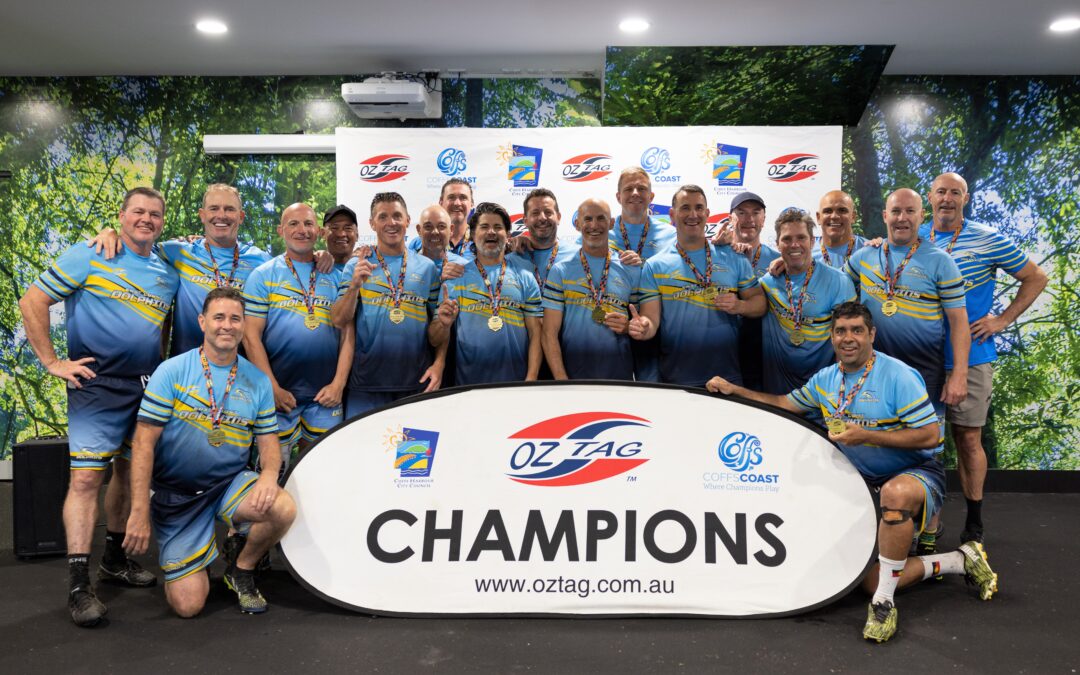 The 2023 Senior National Champions have been crowned following an action-packed weekend in Coffs Harbour.
The highly-anticipated Senior Australian Championships kicked off on Friday 3 November in Coffs Harbour, with 148 teams from across the country set on claiming the National title.
Sunday's Finals saw players rise to the occasion in what were unforgiving weather conditions. As the rain set in, skills were tested and it became a game of defense and field position.
With Australian selection on the table, teams grew even more determined to leave nothing in the tank – the atmosphere electric as numerous qualifiers went into extra-time.
The East Coast Dolphins Mens 50s won heir fourth consecutive title, while the Central Coast Mens Opens and Dolphins Mens 20s made it three in row.
Going back-to-back was Queensland's Storm Mixed Opens and Central Coast Womens 37s.
The race for Region Champions came down to the wire, with only three points separating first and second place.
Australian Oztag are pleased to announce the 2023 Senior Region Champions, on 76 points, the East Coast Dolphins.
Across the 16 divisions, the back-to-back Champions had 11 of their 15 teams qualify for Semis. Six of these progressed to the Grand Final, and three took home gold.
Hot on their heels in second place were Central Coast on 73 points, while West Tigers finished in third on 47 points. 
The East Coast Dolphins will receive a $2000 prize for taking out the Championship title – $1000 for their region and $1000 for their chosen charity.
Below are the 2023 Senior Australian Championships Grand Final results. Congratulations to all crowned Champions.
Womens 20s: East Coast Dolphins defeated Illawarra Steelers 3-0
Mens 20s: East Coast Dolphins defeated Central Coast 2-1
Mixed 20s: Storm defeated Wolves 4-3
Womens Opens: Warriors defeated Central Coast 3-2
Mens Opens: Central Coast defeated Illawarra Steelers 5-2
Mixed Opens: Storm defeated East Coast Dolphins 4-2
Womens 27s: ACT defeated East Coast Dolphins 3-1
Men's 30s: Warriors defeated West Tigers 3-0
Senior Mixed: West Tigers defeated Marlins 3-2
Mens 35s: West Tigers defeated Warriors 6-2
Womens 37s: Central Coast defeated ACT 4-0
Mens 40s: Warriors defeated Central Coast 1-0
Mens 45s: Patriots defeated Central Coast 2-1
Mens 50s: East Coast Dolphins defeated Mariners 1-0
Mens 55s: Marlins defeated Illawarra Steelers 3-2
Mens 60s: Central Coast defeated East Coast Dolphins Green 1-0
For all tournament results, visit Sportfix.
To re-watch the Finals Day livestream, head to the Australian Oztag Facebook page. 
AO would like to thank everybody in attendance for making the 2023 Senior Australian Championships an exceptional tournament.
Be sure to visit IBIMAGES for all tournament action shots. Log in using your Facebook or Google account.
Event log in and password:
Username: oztag
Password: 2023